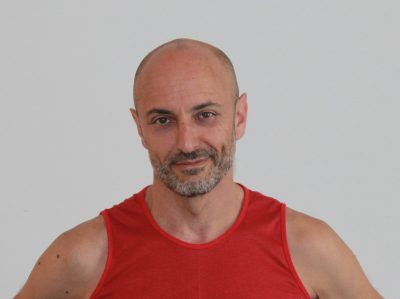 Growing up practicing swimming, skiing, and gymnastics, Matteo developed a love of movement already early on. A sports injury forced him to switch from gymnastics to ballet; and he auditioned with success at the National Ballet Academy of Rome. After studying at the Houston Ballet Academy and Mudra Int. in Brussels, he became a professional dancer and had a passionate career for almost 32 years.
He danced for international choreographers such as Maurice Béjart, Jean-Christophe Maillot and pursued his career in Belgium during the golden age of the contemporary dance with Michele-Anne De Mey, Thierry Smits, Claudio Bernardo, José Besprosvany and Joanne Leighton.
He directed his own dance company (CMM/Compagnie Matteo Moles) for 11 years, performing all over the world and choreographed for the Royal Ballet of Flanders in Belgium, the Vanemuine Theatre and Fine 5 Dance Theatre in Estonia.
As a parallel activity, Matteo taught ballet and contemporary techniques to different companies like Ultima Vez, Rosas, NeedCompany, Ballet Preljocaj, Jean Claude Gallotta, Cie As Palavras, Cie Thor and was invited as a guest teacher at the University of Montreal and the University of Tallinn. He also directed several pedagogical programs in Belgium, Senegal, Burkina Faso, Brazil and all over Europe.
For many years he taught dance, anatomy, GYROKINESIS® and Pilates as part of injury prevention programs at the Dance High School in Louvain-la-Neuve and A/P, the Royal Conservatory of Antwerp.
Matteo discovered the GYROTONIC® System in 2007 after suffering from a back injury. Since the very first sessions he literally fell in love with this amazing technique and quickly recovered from the injury.
His passion for teaching brought him to complete the teacher training shortly after and continue his education in GYROKINESIS®, Pilates and CoreAlign®. He became more and more fascinated by the human body and its functionality. With already many years of experience as a dance teacher, he could deepen his passion along with studies in anatomy, physiology and Deep Tissue Massage techniques. His goal is to understand each client's need and share the enthusiasm, the healing benefits and the joy of movement and smart training.
GYROKINESIS® Master Trainer
GYROKINESIS®  Level 2 Beginner Master Trainer
GYROKINESIS®  Breathing Course Intensive Master Trainer
GYROKINESIS® Happy Moves Course Master Trainer
GYROKINESIS® Cardiovascular Breathing Course Program1 Master Trainer
GYROKINESIS® Cardiovascular Breathing Course Program2 Master Trainer
GYROTONIC® Jumping Stretching Board Master Trainer
GYROTONIC® Pre-Trainer
GYROTONIC® Master Trainer Apprentice
Ballet and Contemporary Dance teacher, certified by the Ministère de l'Education de la Communauté Française (Belgium)
Pilates Comprehensive Teacher (all levels, mat & apparatus), certified by the European Register of Exercise Professionals (EREPS)
Certified Deep Tissue Massage Practitioner
CoreAlign® Trainer
GYROTONIC® Level 1
GYROTONIC® Level 2 Program 1
GYROTONIC® Level 2 Program 2
GYROTONIC® Jumping and Stretching Board Course
GYROTONER® Course
GYROTONIC® Applications for the Pelvic Girdle
GYROTONIC® Applications for the Shoulder Girdle
GYROTONIC® Psoas Principles
GYROTONIC® Exploration into the Extremes
GYROTONIC® Principles Applied to Trunk Dynamic Stabilization
GYROKINESIS® Level 1
GYROKINESIS® Master Trainer Program with Juliu Horvath, director and founder of the GYROTONIC® System
GYROKINESIS® Essentials Part1
GYROKINESIS® Rejuvenation with juliu Horvath
GYROKINESIS® Breathing Course Intensive
GYROKINESIS® Breathing Experience with Juliu Horvath
GYROKINESIS® Cardiovascular Breathing Course Programs1, 2, 3
GYROKINESIS® Happy Moves
GYROKINESIS® Beginner Level 2
GYROKINESIS® Level 2